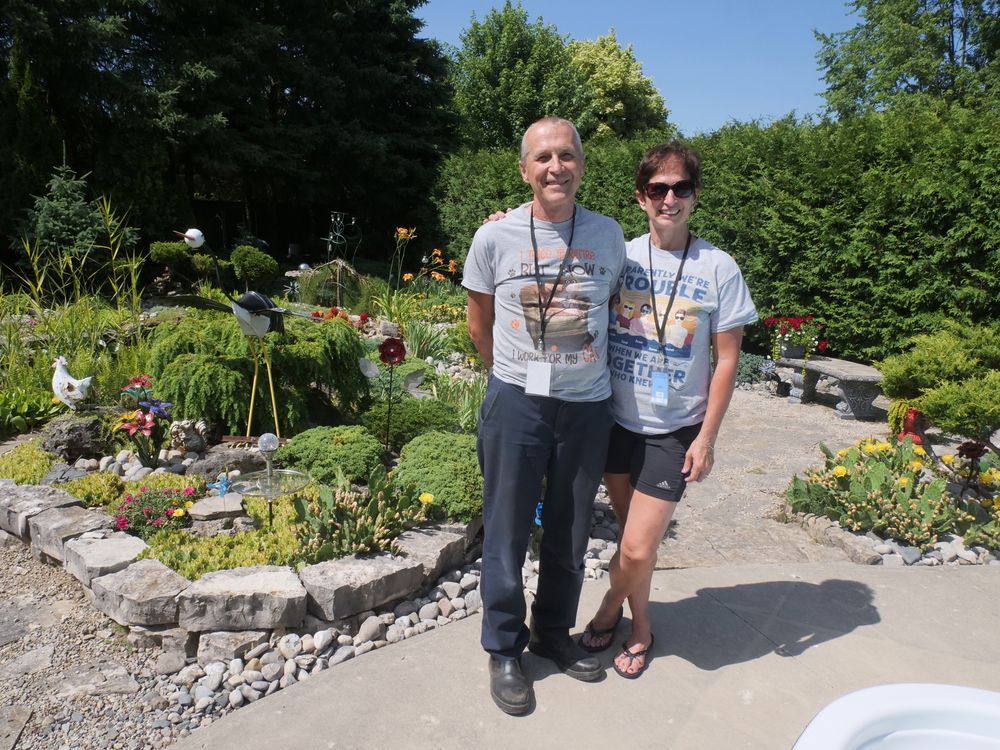 Art, gardens featured in the Garden Artistry circuit
Content of the article
Eastern prickly pears stand out in the Tillsonburg home of Marcus Johnston and Susan Balazs.
Content of the article
During peak bloom season, which typically lasts five to six days, the front and back rock gardens are a "sea of ​​yellow," Johnston said. This season arrived about a week before Garden Artistry – A Tour of Gardens on July 9, but there were enough flowers in full bloom on Saturday to make their gardens visually stunning.
"These are the last flowers. There's a big splash, then a few, every once in a while, through the rest of the summer.
"The plant is very hardy. As a native species, they overwinter without problems. Apparently they are from the area, by the lake. The ground is extremely sandy here, so it is dry in the summer. I thought I'd plant something that both goes with the rocks and doesn't need a lot of water.
The Eastern Ontario Cactus web page states that cacti grow naturally in southern Ontario, primarily along Lake Erie, including Long Point and Point Pelee.
The back garden of their home features sedums, hostas, lilies and irises, geraniums and bonsai-style cedars, as well as water basins in the front and back.
"I just threw it," he laughed. "There is no plan. Although we put in more annuals this year because of the garden visit.
"Most of the time the theme here, for example that pyramid cedar over there, is the cut. These cedars are very old and they can overwhelm the place if you let them.
There were six homes on the 2022 Garden Artistry Tour, including gardens on Whispering Pine Lane, Wilson Avenue, Woodland Crescent, Glenridge Road, Christoper Court and Dereham Line, as well as Annandale National Historic Site and the Garden Gate of Tillsonburg.
Content of the article
Co-hosted by the Tillsonburg Horticultural Society and the Tillsonburg Station Arts Centre, A Tour of Gardens also featured six local artists – Paul Belcher, Jan Duncan, Pat Duwyn, Barbara Lowik, Don Spence and Joe Knauer.
"Lots of people, lots of interest," Johnston said. "There were quite a few here today."
"A steady stream," agreed Balazs.
"I thought the addition of the artist to each of the locations was awesome," she added.
"I loved it, it was a beautiful day," said artist Joe Knauer, who had samples of his wood carving set up on a table next to the Balazs-Johnston pool.
"And I sold a few of them," smiles Knauer.
One of his hand-carved pieces, a brilliant half-size blue jay painted blue and white, featured intricately carved detailing on the wings.
Knauer started sculpting after retiring about 15 years ago.
"My wife said to me, 'There's all this activity over there at the Buckhorn Community Center (Peterborough), why don't you go?'
He was introduced to sculpture and six months later he was at his first show.
"I was carving a seabird and there were a lot of people coming for the show…and a little boy said, 'Oh, what are you carving? Are you sculpting a shoe?
Knauer laughed, "No, no, it's a bird."
"That's how I started. I used to carve in different places, Peterborough and Bobcaygeon, until we went to Hickory Hills five years ago. It was a good decision. »
On Saturday, Knauer was hand carving birds starting with small blocks of wood to demonstrate the steps and techniques.
"I used to do everything by hand, but back home, at my age, the rotary tools are much better."
Learn more about Knauer at www.joescarvings.wordpress.com or email [email protected]