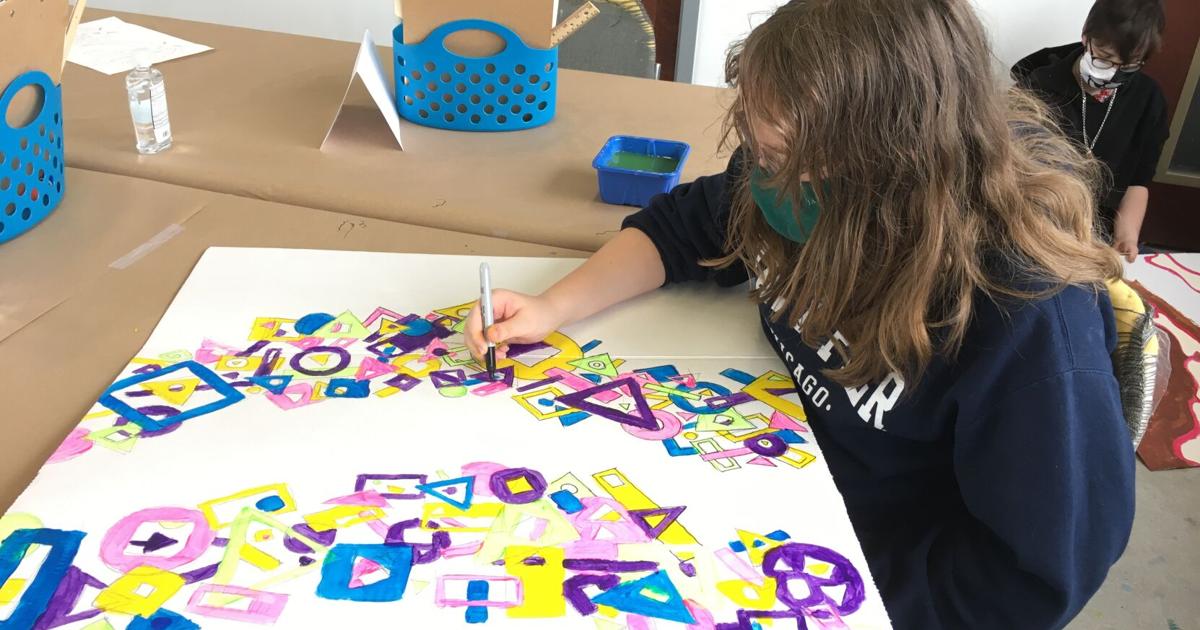 'Built for children' | Working Artists to Teach Curriculum at Bottle Works' Arts Academy | Local News
JOHNSTOWN, PA – Bottle Works is poised to provide an experience for students who want to hone their artistic skills.
The center will host a full nine-week arts program for children ages 8 to 18 on Saturdays from January 29 to March 26 at its facility, 411 Third Ave. in the Cambria City section of Johnstown.
The Academy of Arts will be presented in three segments – drawing, painting and folk art – and taught by five working artists.
"The Academy of Arts started in 2018 with the aim of providing a program for children where art is their thing and it's what they want to do in their free time, and they may even want to pursue a career in art," said Holly Lees, Youth Coordinator of Bottle Works.
"It's designed for kids who want to take art seriously and also gives them access to collaborating with professional artists."
Sessions for students aged 8 to 11 will be offered from 9:30 a.m. to noon and sessions for students aged 12 to 18 will be offered from 1 p.m. to 3:30 p.m.
"This is the first year that we've offered the two different age groups," Lees said.
"We specifically wanted the older kids to have a group focused on learning higher level skills and taught closer to college level."
Throughout each segment, students will develop technical skills, explore artistic disciplines, and discover creativity.
"Over the years that we've been doing Arts Academy, we've always had a great response from kids learning something that they wouldn't have without this program," Lees said.
She said the chosen segments represent the disciplines necessary for any art form.
"Drawing is an important foundational skill and a good starting point for the Academy of Arts," Lees said.
"The painting session specifically incorporates mixed media, so it's not just painting at this particular Academy of Arts.
"With folk art, we transmit traditional craftsmanship."
• Segment 1: Drawing – Building Foundations and Capturing Creativity will be offered on January 29 and February 5 and 12.
On January 29, Foundation Skills & Individual Learning with artist Norman Ed will be presented.
Students will learn various drawing styles such as observational drawing and gesture drawing.
On February 5, comic book character creation and artistic mentorship with artist Khoi Pham will be offered.
For the classroom, students will learn to identify their audience and make art with that group in mind. They will also be accompanied throughout the creation process to create their own comic book character and their stories.
The Layering Effect – Exploring, Blending and Shading with Pencils with artist Joanne Mekis premieres February 12.
Students will learn how to effectively layer color on paper to create dimension in art, whether realistic or abstract.
• Segment Two: Painting – Inspiration From Experimentation will be presented on February 19 and 26 and March 5 by artist and art historian Marjorie Moyer.
For all three sessions, students will create works that have hidden meanings and symbolism.
Students will be asked to create an allegorical portrait using watercolours, acrylic paint or monotypes. They will also learn how to properly perform a professional-style critique of each other's works.
• Segment Three: Folk Art – Learning Traditional Crafts will be offered on March 12, 19 and 26 by artist Colleen Albright.
On March 12, It's All About the Base will premiere.
Students will learn that the key to making a good sculpture is a solid base, and they will create papier-mâché bases from recycled materials.
Body Buildout premieres March 19.
Students will build on their bases to start turning them into sculptures.
On March 26, Complete Sculpture will be offered.
Students will put the finishing touches on their papier-mâché projects and also learn how to create textures and other surface treatments.
"Students can take one segment, but we encourage them to take all three because that's the highest value of learning and they connect," Lees said.
Those who participate in the entire nine-week session will earn a "Certificate of Master of Arts" which will be presented at the Academy of Arts graduation ceremony at 3:30 p.m. on March 26.
Throughout the Academy of Arts, completed pieces will hang in the gallery for display in an exhibition that will run until March 31.
"They will have the opportunity to exhibit their work, which is another level of growth as an artist," Lees said.
"They learn what it's like to exhibit their work, host a vernissage, and get people talking about your art. We treat them like any other professional artist exhibiting in our space.
She said that, for students who attend the Academy of Arts, the hope is that they will develop their skills.
"We want them to develop their ability to view and create, to be open and to think like an artist," Lees said.
Places are limited and registration is compulsory.
Tuition is $255 for members or $275 for non-members for the entire Academy of Arts, or $95 for members or $100 for non-members for a segment of three weeks.
Scholarships are available for students in need of financial assistance. Preference will be given to participants registering for all nine weeks.
For more information or to register, call 814-535-2020 or visit www.bottleworks.org.