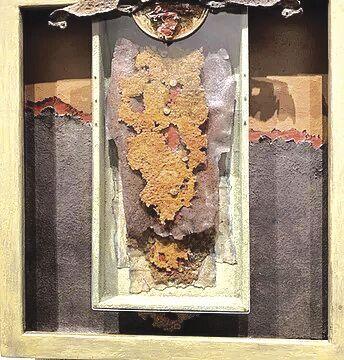 Central Texas College professors featured in Temple art exhibit | Local News
Central Texas College has announced that several members of its fine arts department are featured in the ongoing art exhibit at Temple's Cultural Activities Center (CAC).
"A Life Assembled" is on display at the Saulsbury Gallery, ACC – assembled artists share perspective through combined objects and expression – photography, metal, foam, beads, wood and more. The found objects have been brought together through assemblages of human experience to express emotions and comment on the problems of today's society.
The four artists featured in the exhibit are Chad Hines, former CTC visual arts professor; Nancy Isett, professor emeritus of the CTC – Fine arts; Wynona Alexander, CTC Emeritus Professor – Professor of Fine Arts and Art Metals; and Sheri Wilson, CTC art student. Each artist contributed 6 to 10 pieces for the exhibition. The exhibition is notable not only for the use by individual artists of found objects in a very personal way, but it also covers two distinct generations of creators.
Hines, who represents young artists from central Texas, created works using wood, metal, fencing, wire, and drawn and painted portraits. Isett, Alexander and Wilson are all from a group that started making art in the 1970s. Isett's art consists of multiple layers of found objects and paint formed into figures and vessels. standing resembling totems.
Alexander supplied pieces contained in boxes using many forms of reused objects, including industrial metals, cast bronze, wood, bone, paint, and handmade paper. The exhibit mostly contained in Wilson boxes includes doll and mannequin parts, written words, painting, and various found objects.
"The lost and found approach was started in the 1900s by Joseph Cornell, Picasso and later Robert Rauschenberg, among others," Alexander said. "Generally referred to as 'sculpture' or 'combined painting', this is a very popular artistic creation process among many artists today. Interest in using things from past lives seems to have universal appeal.
The gallery's current opening hours at the CAC are Monday to Friday, 8:30 am to 4 pm; Tuesday and Thursday evenings until 7:30 p.m. and Saturday from 9 a.m. to 1 p.m.