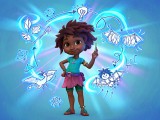 Kidscreen »Archives» Who bought what? Disney 2021 in review
Here has Children's screen, we spend a lot of time talking to buyers about what content they want. But it's one thing to say you're interested in buying a certain type of show, and quite another to go find a BIPOC-directed comedy for six-year-olds that focuses on climate change. We therefore list what the largest broadcasters have actually acquired, ordered, ordered and lit in 2021 in this new Who bought what series.
This is the first full year that the Disney Commissioning Team has operated under the Disney Branded Television name, feeding programming on both its linear channels and SVOD platforms. In terms of new content, many iconic characters have featured in Disney's 2021 strategy, including the Muppets, Alice in Wonderland, and Mickey Mouse. But there were some ground-breaking projects this year as well, like mini-talk show interstitials for Black History Month and the company's first unscripted baking contest.
Unique additions
February-Short series In the corner spear, featuring LeBron James, Kamala Harris, teenage chess champion Jessica Hyatt and 14 year old painter Tyler Gordon (pictured) sharing their stories Interstitials aimed at children ages 6 to 14 released February 8 on Disney Channel and Disney XD.
April-Produced by Tastemade and representing a first for Disney Channel, The magic of Disney's Bake-Off is a live unscripted competition series for ages 6-14 featuring cooking-themed challenges and games. the House of Mouse in India also adds new Cosmos-Maya medical adventure series Dr Tenali Rama HMKD (104 x 11 minutes) to its programming. The 2D animated series is aimed at ages four to 11 and stars a child doctor who solves people's medical problems.
Can-The linear channel captures the animations of Lion Forge Get up, sing—a collection of 2D animated musical shorts by Grammy-winning artists Tariq Trotter and Ahmir Thompson exploring racial disparities through original tunes.
June-Disney announces a collaboration with South African animation studio Triggerfish to produce a 10-part science fiction anthology. The collection of original animated shorts titled Kizazi Moto: Generation Fire will have its world premiere in 2022.
October – Disney is revealing plans for 18 new local-language originals for Asian countries, including Japan, South Korea, Indonesia, China and Australia. The series and films will cover a variety of genres including anime, comedy, fantasy, drama, science fiction, documentaries, crime and horror. Among them are popular Japanese franchises BMissing Rock Shooter Dawn Fall and Yojohan's Time Machine Blues; manga title Summer time rendering; an animated adaptation of a mobile game Twisted Wonderland; Thriller in French Moving, based on a Korean webtoon; and original IP Tira from the Indonesian producer Bumilangit.
New titles
January-Disney Channel takes over Ultra Violet & Blue Demon, a new live-action comedy series that revolves around a Mexican-American family with lucha libre alter-egos, featuring a predominantly Latino production and distribution team.
February-Disney + and Disney Junior acquire a new co-pro called Kiya die Triggerfish and eOne premiering in 2023. The 52 x 11 minute series is about a group of seven-year-old African girls whose magical headbands transform them into superheroes.
March-Linear Channel Launches Single Camera Comedy Series Saturdays, about a young girl and her team of competitive skaters. Meanwhile, animated series focused on music Eureka! (pictured) joins Disney's preschool line, featuring a young inventor living in prehistoric times.
Can-Building on Lewis Carroll's literary classic, Bakery in Alice's Wonderland gets the green light for Disney Television Animation (DTA) to launch in February 2022 on Disney Junior.
June-Miami-based Somos Productions Sells Exclusive Broadcast Rights to Two Seasons of New Series @GinaYei (24 x 60 minutes) to Disney + in Latin America. The live show follows aspiring Latino and reggaeton composer Gina while attending a prestigious Caribbean music school.
August-The commands of the House of the mouse Education, which is slated to premiere on Disney Junior and Disney + in 2023. In association with Disney Junior, Titmouse is producing this animated preschool series about a dog building company. Mickey Mouse is entitled to some new specials for the holidays—Mickey's Tales of Two Witches for Halloween and Wish a christmas. A live-action movie is also in development. From Zoe Washington's office, based on a 2020 book of the same name by Janae Marks. The original Disney Channel film will feature a college girl who learns that her father has been wrongly imprisoned and embarks on a mission to free him.
September-Disney Branded Television Partners With Writer Chris Columbus To Develop New Live-Action Series Titled House of Secrets for Disney +, based on the fantasy book series he co-wrote with Ned Vizzini. Live Sci-Fi Actor Sal and Gabi break the universe is also in development at DBT and actor / director Eva Longoria's prodco.
October–Fire buttons has the green light for a premiere in 2022 on Disney Junior and Disney +. This animated comedy-adventure for two to seven is from creator and executive producer Craig Gerber (Sofia the first). SVOD also covers live comedy series Chinese born American, based on a graphic novel written by Gene Luen Yang. This project will be led by Destin Daniel Cretton (Shang-Chi and the legend of the ten rings) and produced by 20th Television for Disney Branded Television.
November-Original 2D animation series Hailey is on it! is scheduled for release in 2023. The comedy-adventure toon aimed at children ages 6-14 and their families is currently in production at Disney Television Animation.
December-Live comedy series Meet the Mayhems is announced, featuring a young supervillain who hides with his family in suburban Texas after facing off against some of the world's most famous villains. It will launch on Disney Channel and Disney + globally next summer.
Return on demand
January-Disney brings all five seasons of The Muppets Collection to its SVOD. The company acquired the Muppets brand from Henson in 2004, and has since added spinoffs Muppets now and The Muppets' treasure island to the Platform.
February-Five seasons of ZAG / ON Kids & Family's Miraculous Tales of Ladybug and Cat Noir roll out on Disney + worldwide. This is the first time the series has been released on SVOD, which plans to broadcast all of his episodes (130 x 22 minutes).
Can-The Muppets get spooky in their very first Halloween special Haunted Mansion of the Muppets, who sees Gonzo spending the night in a haunted mansion on a challenge.
September-Popular book mark Diary of a Wimpy Kid is getting a film adaptation that will launch on Disney + in December. The film and self-proclaimed wimp-centric books Greg heffley as he recounts the trials and tribulations of his daily life.
October-Created and produced by Jeremy Zag for children from 6 to 10 years old, ZAG's macabre action-comedy series Phantom force (52 x 11 minutes) goes to Disney XD in the United States and will launch later in Japan and India.
November-Disney Branded Television gives the green light to Natasha Kline's animated comedy series Primos, based on her own childhood experience of having 12 cousins ​​moved in for the summer. Disney also acquires the rights to adapt children's novels Closegston and the magician's lost and found items and Kingston echoes of magic like live action movies.
December-Disney begins development of revamped version of iconic TV series Zorro. Actor and executive producer Wilmer Valderrama will play Don Diego de la Vega and his masked cavalier alter-ego.