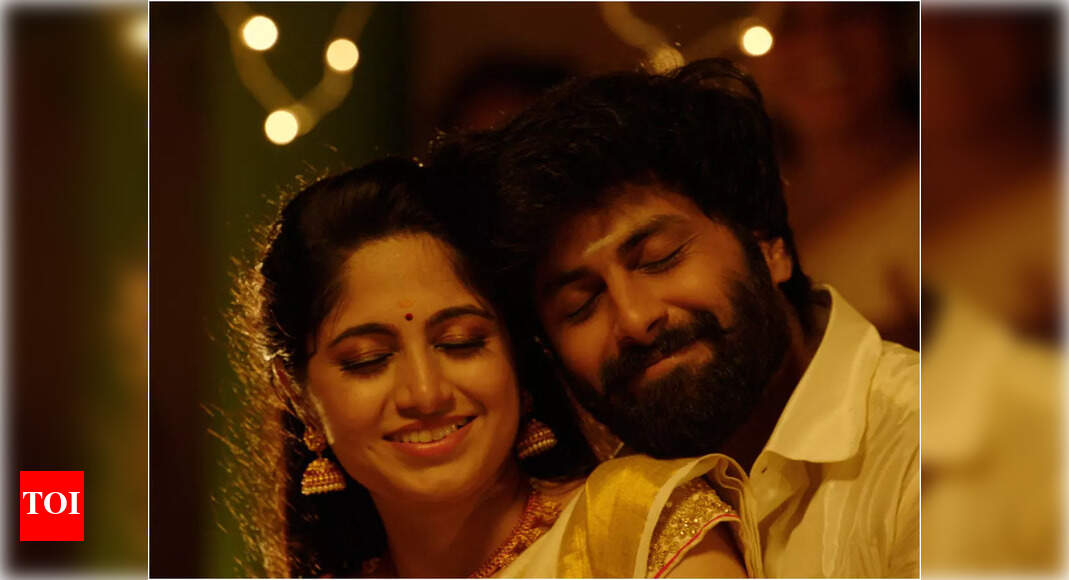 Music Videos will add diversity to our non-cinematic music scene: Siddhu | Tamil movie news
[ad_1]
Composer Siddhu Kumar, who made his debut as a music director with the movie Sivappu Manjal Pachai, has now released the music video, Adipoli, which has current sensation Ashwin Kumar Lakshmikanthan, Kushee Ravi (from the movie Kannada Dia fame) and Sivaangi as part of it. Interestingly, Siddhu also directed this clip. In a conversation with us, the composer talks about the origin of the song, its equation with Ashwin, why he decided to conduct it. Extracts:
How did this song come about?
Ashwin and the music label were planning to make a music video. As Ashwin and I had previously collaborated on the song Kanna Veesi, he asked me if I would like to dial this number. We wanted to do a celebratory song, a happy number. I found a track that Ashwin and the label liked. Later, as we were discussing the release date of this song, we realized that since Onam was the closest festival to our schedule, we decided to make it a fun song celebrating the Kerala Harvest Festival. Lyricist Vignesh Ramakrishna, who has been a friend of mine for 10 years, has found a perfect blend of Tamil and Malayalam words to make the song appealing to audiences in both states.
Considering that we already have Nape Thunai's Kerala song which is also a Malayalam connection, how did you try to make it different?
Once we decided it should be an Onam song, we looked at what the Malayalis were doing for Onam and pulled our content out of it. We didn't think we would stray away from the influences of the previous issues which spoke of Kerala. The basic story was about a Tamil boy visiting a girl in Kerala and the entertaining incidents that took place there. But later we realized that even the Kerala song also had a similar premise. But we were slightly different because we didn't have serious things going on, unlike this song, in which the girl's dad doesn't want to let his girl go with the guy.

How did you choose the singers? Was it a conscious decision to have Sivaangi, given that she and Ashwin are big fan favorites?
Many of us on this team have walked our careers together. When it came to who we wanted as the singers for the song, the lyricist and I thought Sivaangi would be the right fit. Ashwin, too, had promised in an interview that he would get Sivaangi for his next music video. But the female portions were very small, so we were reluctant to have it. Later, we developed the song before the video was shot, and only after we shot it, I called Sivaangi and she immediately came and sang it. It's a touching part of the song, and I'm glad her voice is a part of it. As for Vineeth Sreenivasan (who sang the male parts), he has an energetic voice. And beyond that, I wanted to see what it would be like if a Malayali singer sang a Tamil song. I love his Jimikki Kammal and Kudukku songs, so I decided to have him for that. In fact, I recorded it just a few days before the clip was released.

You also directed the clip. How did it happen?
Since this is a music video, as a songwriter I had some ideas on how the visuals should be. So I decided to make the video myself so that I could visually bring my imagination of the song to life. I have to thank my management team for helping me. A few of them had experience as directors, so that helped. I also had people like Sheriff master, who choreographed the song, and Om Prakash, who toured it, on board. They both make big movies so I wasn't sure if they would be willing to work on this song, but they were thrilled to be a part of this project. It is also thanks to their contributions that I was able to make this clip.
The other reason is that more than an actor, Ashwin is like my brother. I had certain ideas on how to project him as a hero and it gave me the opportunity to fulfill that desire in me.
And you also appear in the video with Ashwin…
I wanted to be part of my first attempt at directing, especially the one I was doing with Ashwin. I thought it would be a nice memory a few years later for me, so I decided to play in the song as well.
Nowadays, a lot of people make such music videos. Do you think this is a trend or a fad that will go away once the pandemic is over?
In fact, it is not an independent music video, in which a composer writes and performs. But this trend is just the start and will evolve. In a few years, I am convinced that such music videos will become a separate category of music in our music scene, which is currently dominated by film music. The fact that big stars and techies are showing up to be a part of these music videos is proof of the growth of this category. Such attempts will also add diversity to our non-cinematic music scene.
Many of these clips seem to involve stars who are popular with audiences at the time. Do you think it's the stars that make these songs go viral?
There are many factors at play here. There were songs that didn't go viral despite having popular artists. It's not just the stars, it's a mixture of everything… the presence of the stars, the composer's thought, the sound and what people want at that time. You might have a popular star, but if the tune isn't catchy, it might not work. Likewise, you might have a catchy tune, but no star, so the song might not be able to grab the audience's attention. And even if you have both, the timing of the song's release or promotion can go wrong and not reach audiences.
Tell us about your next film projects …
After Sivappu Manjal Pachai, I am partnering again with Sasi monsieur for his film with Harish Kalyan. I also compose the music for Aanandham Vilayadum Veedu by Nandha Periyasamy, who has Gautham Karthik in the lead role. A few other projects, which I cannot reveal now, are also in the works.
[ad_2]