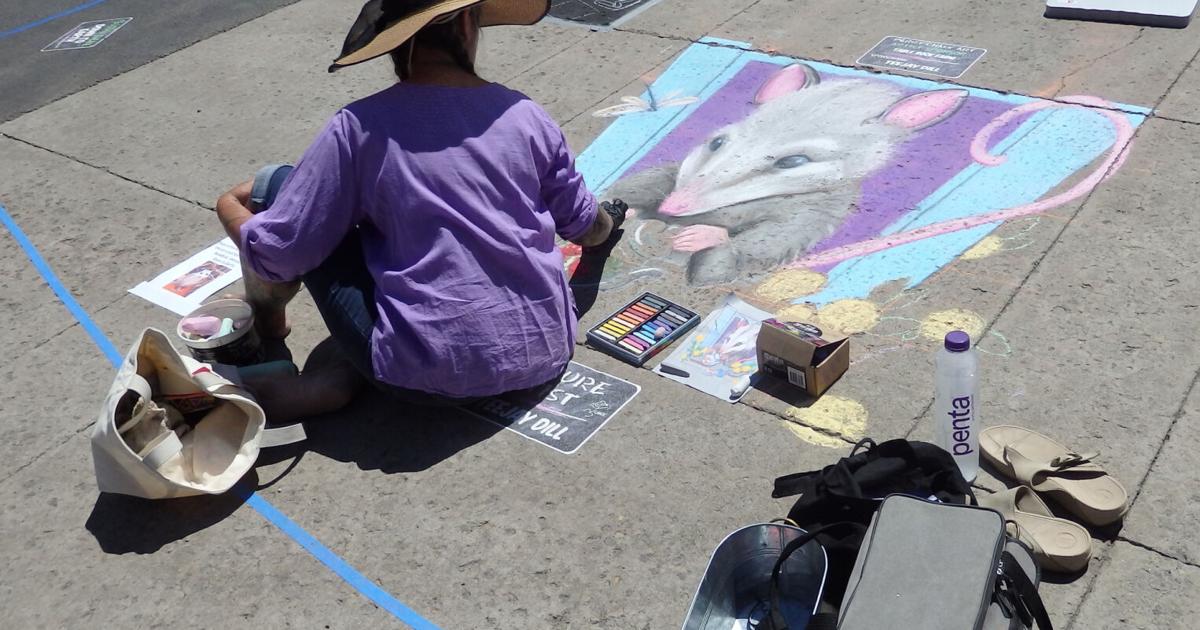 Pastoral, mystical and whimsical: Artists get creative at Perry Chalk Art Festival | Featured story
PERRY — Take a box of crayons, an idea, and some cobblestone as a canvas.
The concept is simple, but the results?
Artists such as TeeJay Dill got to work on Saturday, creating a world of chalk images – pastoral, mystical and whimsical. Crowds gathered downtown, watching the artwork slowly take shape.
It was all part of the annual Perry Chalk Art Festival, which attracted thousands of people.
"The theme is 'Down to Earth,' so this year I'm doing a girl holding a rocket," said artist Julia Williamson of Cheektowaga, who took second place in the adult category of the 2021 festival. is much funnier and less dark than last year."
Last year's event was well attended and drew around 5,500 people, festival coordinator Meghan Hauser said. But as popular as it was, people were still coming out of the COVID-19 pandemic.
This year's festival drew people in for the perfect mix of sun, music, food, shopping and art. "It's fantastic," Hauser said. "The vendors seem happy, the chalks are very happy and the audience is happy, so we couldn't ask for a better day." The artworks and subjects were as varied as the artists themselves.
Dill was this year's featured artist and created a drawing of a possum about to share a cup of tea – which is arguably one of nature's most down-to-earth creatures. "One of the guys I work with has some horrible opossum stories that I won't repeat," she said. "I realized from talking to people, people are really scared of them, because (possums) whistle when they're scared.
"But they're super beneficial," she continued. "They eat ticks, maggots and snails, and things you don't want in your garden. They don't harm anything most people care about. He's a really good neighbor… Originally, I was like, "What kind of people are down to earth," and that's something they use to describe a really good neighbor… so my opossum will have tea, as you would have with a nice neighbor."
Nearby, Spencerport's Karen Flack created an almost photographic image of her daughter Lydia Todd.
"When they said 'Down to Earth,' I immediately thought of her laying in the grass," Flack said. "And he's a down-to-earth person. She had the idea of ​​taking some of the foliage and their roots below. I also like to do landscapes, so I wanted to put some dirt in there, or landscaping.
Flack taught for a time at Genesee Community College and is now an art conservator. She often wets her chalk first and works with a brush, layering bright colors for high contrast.
You also have to love the outdoors and the sun, she says of the festival.
Many of the chalks were long-time performers at the event and were well suited. Mother-daughter team Lorie and Kelsey Ames, of Perry and Geneseo respectively, worked together on a piece highlighting the importance of farms – outside of the festival, their background in agriculture.
Perry's Tim Humberstone worked on illustrations depicting Earth and an Inukshuk.
The latter is one of the earliest art forms on Earth and dates back to around 2,500 BC. Humberstone's work mixed complex symbolism, with an inukshuk pointing from space towards the Arctic region and Canada.
The festival was not limited to adult performers. Beyond food, entertainment and vendors, it has also provided plenty of opportunities for young people in the area to create their own creations.
Eva Gamarnyk, 14, from Penfield, received many compliments. She was born in Ukraine and created the image of a Ukrainian woman in traditional dress, surrounded by the sun, moon and stars.
"People can dream different dreams and everything, but the real reason for dreaming, I guess, is for peace," she said. "You can dream of anything, but all we really need is peace, because if there is no peace…"
The party continued all day. The winners had yet to be announced by press time on Friday night