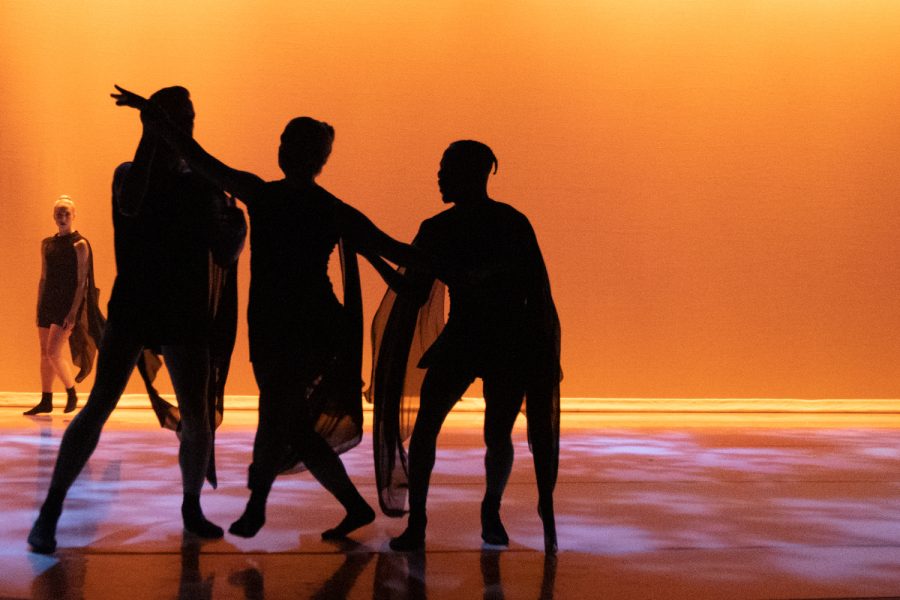 The crowd is asking for more at SBCC Dance's "Collaborative Collaborative" – The Channels
The channel art pages | CRITICAL REVIEW
Art and passion through various dance styles kept audiences on their toes during the SBCC Dance Company's "Collective Collaborative 2021" show at the New Vic Theater on Friday, November 5th.
Dance director Tracy Kofford brought together nine different companies from the Santa Barbara and Los Angeles area and provided them with a space to exhibit their talent. The show consisted of 14 performances and had a second evening on Saturday November 6.
The production included numbers from SBCC Dance Company, FUSE Dance Company, State Street Ballet's Professional Track, AkomiDance, UCSB Dance Company, LA Dance Moves, Santa Barbara Festival Ballet, Sespe Dance Co., Jess Harper & Dancers and Santa Barbara Dance Arts.
Most of the evening consisted of unique contemporary styles, with two ballet pieces and some upbeat performances.
The pieces by SBCC Dance Company, FUSE Dance Company, and Sespe Dance Co. had similar styles, with quirky musical choices that embodied lyricless instrumentals and songs.
When a performance took the stage that was different from those pieces, it was nice to see the contrasting emotions and a change in technique.
The UCSB dance company was very impressive and one of the audience's favorites that night. Their performance "Group Autogenics", choreographed by Derion Loman and Madison Olandt, was very expressive, technical and unlike any dances we usually see.
The music was special in the best way, with different sounds and audio recordings radiating from the stage. The performance was so engaging that it left audiences begging for more.
AkomiDance presented a solo performance titled "Arrival". Performer Melesio A. Aceves caught the audience's attention with incredibly crisp hits and choreography to match every beat of the song. No matter where you sat in the theater, it felt like you were on stage with Aceves.
Each performance had its own style of lighting which featured a variety of colors, each intended to match the emotion portrayed through the dance and to create a beautiful atmosphere on stage.
State Street Ballet's professional track brought great energy and a great presentation on stage. The trio of Caleb Knight, Emma Maple and Allie Mikalatos put on an elegant dance that left smiles on the faces of the crowd.
After the intermission, Santa Barbara Dance Arts gave viewers a memorable and captivating performance. Their piece "Merry Happy", choreographed by Joshua Manculich, was cheerful, short, and contrasted with most of the other performances which lasted around four to five minutes.
The evening ended with a piece called "Ride" by the UCSB Dance Company. The performance stood out with an ear piercing sound that made it almost difficult to focus on the dance itself. While the song choice was odd, it worked as the dancers portrayed a weird, weird vibe to end the night on a mysterious note.
As a whole, the "Collective Collaborative" revealed pieces on which the dancers had been working for a long time, and allowed them to express their creativity in front of an engaged and admiring audience.