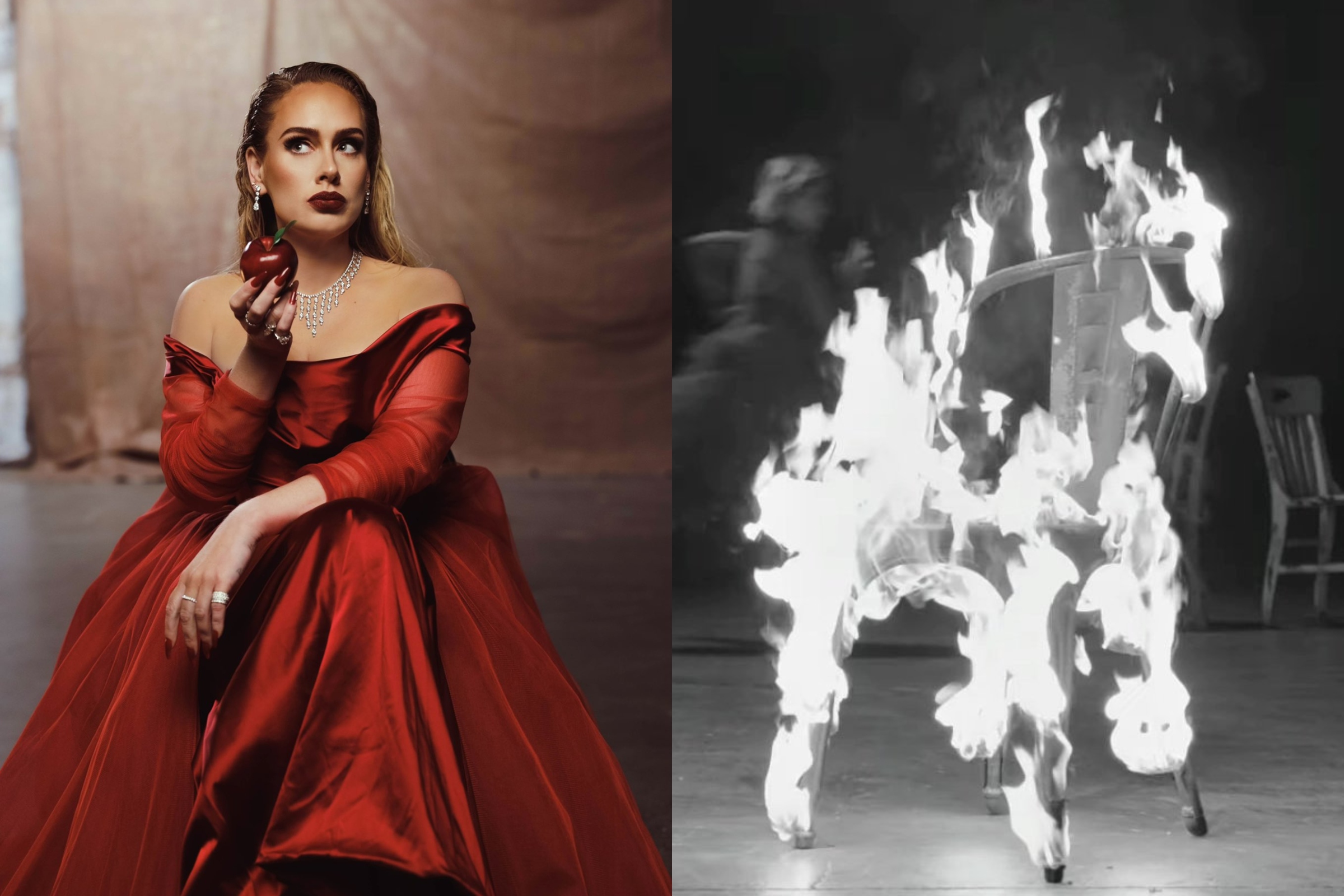 The Meaning of Adele's Burning Chair in "Oh My God" Music Video
Adele's resurgence continues and every little detail of her new material is being dissected by fans. The last article in the spotlight? A flaming chair.
Before the launch of the music video for his song "Oh My God", from his album 30, a short clip was released, but it was enough for fans to begin their investigation and spotted Adele's latest use of symbolism.
The music video for "Oh My God" will be uploaded on Wednesday, Jan. 12 at 9 p.m. PT and 12 p.m. ET. Adele has dropped more clues as to what the video will contain along with other clips and images on her social media.
Burning chair in "Oh My God"
Nothing is added by accident when it comes to Adele's clips, as each one seems to tell a story that unfolds alongside her real life. An example of this would be the house she moved into in "Hello" but then moved in her recent song "Easy On Me". The timing of each outing reflected the start and end of her relationship with Simon Konecki.
This time, avid Adele fans noticed that the music video for "Oh My God" features a chair on fire, and many were quick to point out that it was a callback to her previous music videos.
This reference goes back to Adele's early work, as many fans have pointed out. Adele's fan accounts @adkinsupremecy (Adkins is Adele's second name) and @adeledrinkswine compared the footage from the new video side-by-side with "Rolling In The Deep".
The @adelified account took it a step further and included footage from the music videos for "Hometown Glory", "Rolling In The Deep" and "Easy On Me". They wrote next to the pictures that "she comes forward", which is probably a reference to the end of her marriage.
@Adkinsupremecy weighed in again and this time found the lyrics to an old song that could be referenced. The song "My Same" from Adele's debut album 19 includes the lyrics "I like to sit on chairs and you prefer the floor".
Unbeknownst to casual Adele fans, the singer has built a reputation for singing while seated, which fascinates some of her supporters.
In preparation for the latest clip, @adeleiconic_ has included four images from previous videos where Adele sings seated and describes the effect she has on the world. @PhotosofAdele echoed the sentiment while previewing the new clip.
Adele's days of sitting and singing may be behind her. Burning a chair implies that she is stepping away from the tropes she is known for and is eager to try new things. On Twitter, @Adeleography used a phrase coined by Taylor Swift to describe Adele's feeling when she burned the chair: "Old Adele can't come on the phone right now." The end of this line according to Swift's song "Look What You Made Me Do" would be "Because old Adele is dead".
The new music video for Adele's song "Oh My God" premieres on Wednesday, Jan. 12 at 9 p.m. PT and 12 p.m. ET.